Facebook Market Place – The Step by Step Guide for Marketers 2020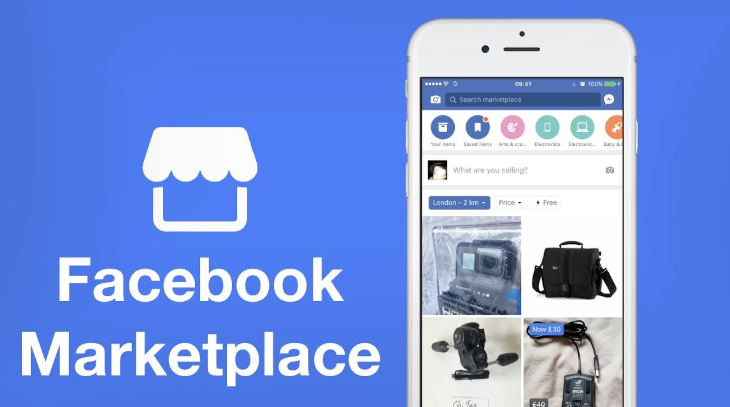 Facebook Market Place – The Step by Step Guide for Marketers 2020
Selling your items online was a painful and tedious affair. For most marketers, it would take them a week or even months before landing their first client. In 2016, selling on Facebook became easier than ever as the Social networking debut a new product features called Facebook Marketplace.
The new product would help its users list their items on sale and link them with buyers nearby them, which enables them to access a broader market and help them sell even faster.
Well, come to think of it it's just amazing that Facebook introduced an online commercial platform that its users can interact with their target audience within the scope of their business and allow them to sell their wares at zero cost. Incredible right?
Giant social networking sites have about 1.62 billion users, logging on a daily or regular basis. Well, the number is just mind-boggling, and it doesn't end there; the Facebook Dau active sets rose by 9% every year underlining the potential and versatility that remained untapped for a long time.
According to a recent survey, more than 74% of high wage earners were more likely to refer Facebook to their friends and family as the go-to social media site. YouTube has about a 73% market reach making Facebook one of the most popular networking sites globally.
For those especially who are planning on establishing an online presence, the market place for Facebook should be at the top of your list. The site is where user interaction and socializing have been simplified, making everything seamless and effortless.
Through Facebook, building your brand/reputation, linking-up with the right audience, boosting awareness of your products, and keeping in touch with your followers has never been easier.
For this article, we are going to look at every aspect of the Facebook market place. How does it work, what your business can do in preparation, and so much more. What else can you need to spur your business? So, let's dive in right away!
A brief history of marketing on Facebook
Back in 2007, there was the introduction of business pages on Facebook. After the introduction of the Selling option, it spread like wildfire as businesses started reaping high ROI. As they say, the perfect place to sell is where the customers are.
Its audience algorithmsmake things even easier as it allows sellers to find their customers based on interest, location, demographic, and so much more.
What is the Facebook marketplace?
Well, the name says it all! Marketplace on Facebook is an online digital platform where users can buy and sell their products and wares to each other locally. What makes the product even more accessible is any user can list or sell their products to gain both local and global audiences.
Buyers can browse through the entire Marketplace, go to stores, choose categories, check-in groups. The options are unlimited; the product shown on the Marketplace is specifically tailored to the users' interests and likes on Facebook.
The entire structure of the platform was built on a peer-to-peer basis such that whenever users want to buy on the Facebook marketplace, it's solely done through messenger. It gives both buyer and seller to interact on a 1:1 basis and forge long-lasting business relationships.
With the ever-changing trends in technological advancement, Facebook strives to add more functionality to the Marketplace Facebook as well as adding more payment options such as BigCommerce and Shopify on their accounts.
Every conversation initiated by the client to the customer is mainly through messenger, and all products purchased via the Facebook Shop are processed automatically through your preferred payment option.
How can you set up a store for your Facebook page?
Going through the usage and rules of the Marketplace is relatively easy to understand. For this section, we are going to provide a step-by-step guide making it more convenient and simpler for you.
Step 1: Logging in into your Facebook account through business or personal account
Log in to your Facebook account by inputting all the correct information; you can either use your personal account for buying or selling or create a business account.

After successfully logging in, you'll see the marketplace icon, which is typically located on the top-left side.
After clicking on the marketplace tab, you will be automatically be redirected to the next page where you can begin your marketplace journey.
The 'sell something' will trigger the Facebook selling process.
Step 2: Creating your first product listing by tapping on the 'sell something icon."
When it comes to selling your products on Marketplace Facebook, you'll be required to create your profile plus essential information that buyers can see and make payment.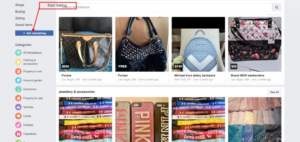 By choosing 'Sell Something,' you will have to provide a few necessary details such as Home for Rent, Motorbike for sell and product for sale, to mention a few.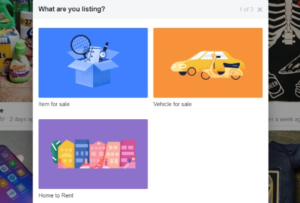 Choose any of the items before proceeding.
Step 3: Choose your preferred menu from the 'drop-down' menu
Once you've chosen the menu selection, you will be redirected to the representation of the actual listing of the wares or products.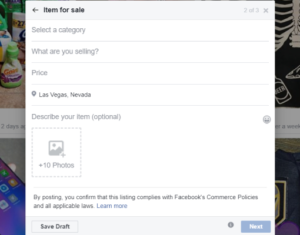 To create a seller's profile, you'll be required to provide some sets of information
The platform has a distinctive set of categories such as
Antiques & Collections
Appliances
Arts & Crafts
Baby & Children
Cart parts
Health & Beauty
Pet Supplies
Vehicles and so much more
Step 4: Demonstrating more about the products you are selling
Fill all the information which entails the changes on the post
After the provision of the required information, you need to select your target audience; for placing your ads on Facebook Groups and Marketplace to reach your audience more effectively.

Step 5: Finalizing products for sell for your Facebook Marketplace
After choosing your target audience, click on your post for finalizing the product sell
The boost listing feature will bring you much closer to your targeted audience with multiple selection options.
Hurray! Your posting on Facebook Marketplace has been successful, and the working scenario now begins from here.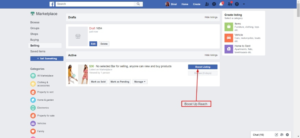 The Social Networking site has a feature that encompasses all your products posted directly to your targeted audience. This means that whoever is browsing on the Marketplace will be able to view your products.
Whenever you sell your products or items on Marketplace Facebook, all the products listed will be shown as part of your store; additionally, it will also create your profile according to your needs and preference.
Three main features of the Facebook marketplace
The Marketplace for Facebook comes with three key features that make buying and selling easy and seamless:
Browse to but and sell- The market features a filtered timeline where you can browse and look at items that are on sale within your community.
The tags that people attach with their listings, coupled with the AI text analysis and the pages you've liked, will provide you with listing that is based on your preference and liking. Pre-made descriptions about the product make negotiating fast and straightforward.
Sell your stuff- Instead of setting up a whole new profile; you can just simply take a picture, add a brief description, set price, and post your listing. It's as simple as that, amazing, right?
Search surroundings- the Facebook marketplace has browser-specific categories such as electronics or households. For specificity, you can use a filtered search that will display price, category, and location, narrowing down on products/items that are nearby you and meets your minimum criteria.
If you see something that you are interested in, you can view the sellers' approximate location but not their exact address unless the seller provides that information to you.
Key factors that you need to consider before selling on Facebook Marketplace
1.    Disclosing the demand and supply chain
Having the correct stats on the supply and demand will have a tremendous impact on your generating huge revenue. As a brand, if you modify and streamline all the demand and supply issues, your business will go hand in hand with all the set-out strategies which re-affirms the consumers' confidence in your business
Brands need to be inclined to being great and bigger branding for all their products along with the dictated demand and supply strategies.
2.    Syncing all the e-commerce platforms to the Marketplace for Facebook providing real-time results
Currently, in the online sphere, not all e-commerce platforms have the capabilities of syncing with the Marketplace. Here are some of the e-commerce platforms that have partnered with Marketplace Facebook.
ShipStation
Shopify
Quipt
CommerceHub
BigCommerce
Feedonomics
IXXO
3.    Incorporate the use of communication-templates and soft-tones for your clients
The new in-thing marketing concept that has proven to be a hit with buyers is professional soft-tones; educating all your clients is vital by practicing the virtue of being patient is essential as a seller.
Proper customer care satisfaction will please all your clients and make you shine, and it will also generate referrals. With multiple shopping platforms, expect to receive a list of complains and queries from clients and community members who are looking to make a purchase.
Those who have purchased who have already made their purchase will also need to know the package status of the products they ordered.
4.    Having statistics of all the best-selling items on Marketplace
The best-selling products on your Shopify and Developed Magneto Store are not similar to that of Marketplace.
For Marketplace for Facebook, its always advisable to spend time knowing which products are the most popular or liked on Facebook in the community for maintaining your listing on the first page or row.
You can even go a step further and choose specific categories: you can filter the most likes products sold in a specific area.
Ways you can use The Facebook app marketplace to enhance your business
Facebook is primarily a socializing platform; the Marketplace is just a product to enhance marketing connection is users. For these sole reasons, the social networking site is the perfect place to look for new clients and forge a relationship with them.
As a seller, you are not competing with big companies but other users as well. We've chosen a few bold and shrewd ideas you can exploit Facebook to grow and develop your business.
Boosting discoverability and awareness
In the United Kingdom, boosting your brand reach and awareness is among the fastest ways of increasing your overall sales. Most users on the site are familiar with the Facebook app marketing too, thus making it easy to navigate through the site.
To enhance your brand's visibility, you need to have a deep understanding of how every category works. There are mainly 11-top tier categories, which in turn have been broken down into subcategories.
For those who place their products in categories that appeal to their target audience, your products are likely to be found by buyers as they are browsing through the Marketplace for Facebook. But, keep in mind its not the only way of enhancing your visibility.
The more followers you have on your business profile on Facebook, the more your products will appear on the buyer's timeline. The best place for doing this is the description of the product.
Its recommended selecting the following adjectives to increase your brands' visibility.
Brand awareness
Reach
Traffic
Lead generation
Messages
Conversions
Catalog sales
Store traffic
Cultivating trust with the audience
Transacting business online is all about trust, to overcome the distance between the seller and buyer, its important to establish confidence in sellers. As a peer-to-peer product, the Marketplace on Facebook has exclusive features that will assist you in creating trust between a client and seller.
The Facebook store page also presents you with an opportunity to build clients' confidence in your business. Using your page, sellers can improve their credibility of your reputation as well as a company by providing vital info regarding your business and answering your client's questions.
Testing out new products
For those thinking about launching new products or testing an idea, the Marketplace on Facebook is the best-suited place to do so. Facebook does all the audience targeting for you, as a seller, you will get to test whether a service or product will resonate with your target audience.
Besides testing new products, sellers can also experiment with price rates and look at how your audience to pricing raise and discounts.
Offering your buyers exclusive access towards discounts or products in Marketplace will generate more leads, and many clients will feel that you are providing them with something unique, thus building your loyalty brand.
Selling on Facebook app marketplace with e-commerce platforms
It can seem a little bit daunting to create another separate online store to sell your products when you are just starting with selling on Facebook, but the truth of the matter is e-commerce platforms will enable you to sell more with minimal effort.
Facebook marketplace is not compatible with other e-commerce platforms, without e-commerce sites, you'll need to manage your shipping and order manually. If you are selling a few products per month, it might be easy, but if you are dealing with huge volumes, it can get a little bit tricky.
The e-commerce platforms have online tools that will assist you in keeping track of everything enabling your business to grow. Platforms like BigCommerce or Selz is the perfect place to get started.
In my personal opinion, I would highly recommend going with IXXO as you go-to e-commerce platform as it will boost your brand name awareness as well as let you reach a wider target audience.
IXXO has a lot of benefits to you as a merchandiser or seller. Some of the benefits of choosing IXXO as your e-commerce partner include:
Enhancing your brand awareness using all the common social indications like promos, shares
Improving your sales margin by listing all your products on sale
It allows you to set-up your online shop with minimal resources and makes more sense economically that setting up your online store from scratch.
1.    Diversifying to other channels
Selling on Facebook Marketplace limits your potential to reach a wider base and more customers. Expanding to other channels will double up your business and increase your brand reputation.
You can utilize other e-commerce platforms to add more products to your store, hence making it easier when it comes to adding updates. There are plenty of other e-commerce platforms; thus, you can complement your Facebook Marketplace.
2.    Selecting an e-commerce platform
There are a lot of things that need to be factored in when choosing an e-commerce site, its always essential to do prior research and go for a platform that suits you, ensuring you are in business in the next five years.
Going with an e-commerce platform that will be compatible with your strategies and business needs will set you apart from other entrepreneurs. Here are some of the qualities that you need to pay special attention to:
Store Builder
Customer Service
Customer Experience
Tools and Features
Security
Design
Fees and Pricing
Also, you need to ensure the platform you go with has direct integration with the Facebook app marketplace. After selecting your e-commerce platform, you can proceed by curating your online store.
For tips and on creating the best online store, head to this practical guide from IXXO, once your site is up and running, you can begin adding your product to the online store, or you can manually upload or use CSVfile.
Finish by linking your Facebook marketplace to your online store that will initiate syncing of all the platforms and begin selling your products and services online.
When it comes to selection of an e-commerce platform, we highly recommend using IXXO as developing you store is quite simple and straightforward when setting up your shop as it caters to your selling needs and preference.
Ways of promoting your products/services on Facebook
Facebook has made it extremely easy to promote your product/services when selling on the Marketplace. For this section, we are going to highlight features that will maximize your visibility as well as profit.
Organic posts
Letting your customers know that you are not there for only business or sales is very important. As a seller, you'll need to come up with creative and ingenious ways of showing people that you are parts and parcel of the community.
Aside from just liking and sharing posts from your target audience, become a content creator, which shows that you care. Facebook has updated its features which displays videos at the top of your feed.
Whether you are going live or sharing premade videos, come up with creative ways of creating videos that can be added onto your Facebook page. Videos on Facebook is a popular way of sharing content with your followers.
Once users visit your page for the first time, you can assist them in getting to know more about your products through remarketing. If you don't have any experience when it comes to making videos, well, don't sweat it! It's easy than it looks.
For most users, they aren't interested in professional videos; they want to see something that's real and authentic. Some idea and concepts which you can use for your Facebook Videos include:
Videos demonstrating on how to operate or use your product
Clients reviewing your products and outlining their value
How you create, pack and ship your products to various destinations
Behind the scene details about your personnel
Videos that provide useful details related to your products and services.
Facebook messenger
I am sure we have all at some point used the Facebook Messenger to connect with colleagues, friends, and family. Well, for sellers Messenger can also be a powerful messaging tool.
You can use this feature for customer support as well as address all the queries and concerns from your clients. The chatting features also provide deep insight into getting to know more about your client and refine your messages to the client.
As a seller, you can also introduce new products and services to your clients.
Facebook Ads
Once you've created your organic channels to be sold on Marketplace at Facebook, you'll need to look at the paid options. There are mainly two major ways of advertising on Facebook: Sponsored posts and Facebook ads.
Sponsored post allows you to promote posts that can be shared to people within your network and to a much bigger audience. The promotion of posts allows you to reach more people within your budget range.
Sponsored posts are quite straightforward and easy to make; they appear like normal Facebook posts.
Facebook ads are a more traditional way of traditional advertising. The Carousel ads on the Marketplace Facebook will enable you to display numerous products with features of a call to action. If you want to start your business on a high, the targeted Facebook ads are an excellent way of connecting with your clients and niche.
Targeting advertising
Marketplace Facebook provides sellers with an outstanding advertising feature. Users can create ads that will target specific audiences using education levels, age, geographical location, and sometimes can even go as far as the browser used.
Facebook also has added a feature that enables users to hide ads if they aren't interested or don't like them. Due to the gathering of a lot of demographic info on its users, the platform provides one of the best-targeted ad programs of all social networking sites.
Targeting of your users is based on virtually anything that's found on their profiles; additionally, sellers can also be able to track the segment success at each phase.
The Marketplace for Facebook ads is based on a per-click or per-impression basis; it also displays the bids that are a similar range of yours; this feature is quite useful as it enables you to know is in line with those in the same line of business. Sellers can also set their daily budget limit, so they don't overspend.
The key benefits of Marketplace on Facebook are the fact that they are very powerful, and the chances of success on groups or pages are higher as sellers will be able to choose who gets to view their ads.
The drawback of Facebook ads is the cost that comes with it; you can run plenty of Facebook ads without getting your return on investment, so be careful to stick within your budget range.
Customizing your ads
One of the biggest advantages of targeted ads is it allows the creation of different ads for specific demographic groups. Ads that offer precision targeting will generate more leads and click, leading to more sales on Marketplace on Facebook.
For example, if your target audience is football fans, you can create specific ads for different teams, and you can create one ad that is specifically targeted to fans of let's say Manchester United fans or Chelsea fans.
The, in turn, you could have those ads to those users who have shown an interest in those football clubs.
Using Facebook Groups as an alternative to Marketplace
Over the last few years, Facebook has added a few new features that can be used on different types of pages. Here are some of the ways you can utilize them for marketing your brands and products and services that you are offering.
Marketing with Facebook Groups
The Group feature has been on Facebook for quite a while, but recently they have added brand-based groups that are associated with your page. To use this feature, you will first need to create your brand's Facebook page; then you can create a group that's linked with your page.
This will give you a certain degree of control over the group as it will be linked with your brand. The groups created are often associated with the company or products/services offered to reach a wider based/audience.
One of the main benefits of the Facebook Groups feature is the like pages are absolutely free and also provide huge traffic in terms of engagements. The drawback of the Facebook feature is they are quite time-consuming.
Managing your page is quite simple and straightforward, as you will just check it once a day when replying to comments or posting something. The Group feature also enables you to post a question, monitor discussions, and manage your members.
Facebook app Marketplace rules and regulations
As a seller or buyer being conversant with Marketplace rules is vital such as knowing which products and services are allowed and prohibited on the platform. To know more about marketplace policies, you can head on here
The commerce policies also apply to other Facebook products such as buy and sell groups, Instagram Shopping, and page shops.
1.    Items that are prohibited from selling
Facebook, as a social networking site, has community rules and guidelines that prohibit selling of some of the products and services.
Adult products or services
Alcohol
Animals
Digital media and electronic devices
Event tickets
Gift Cards
Healthcare items
Illegal, prescription, or recreational drugs
Tobacco products
Unsafe supplements
Weapons, ammunition, or explosives
2.    Only physical items can be sold
Physical products are allowed on the platform, some of the things prohibited include:
News
Jokes
Lost and found posts
"in search of" posts.
For specific services such as housekeeping and event tickets can only be sold on the Facebook Marketplace with the coordination of other Facebook partners.
3.    Descriptions have to match the image.
The product photos uploaded must match the description and title of the item being sold.
4.    Before and after pics are not allowed.
The products sold on the Facebook marketplace have banned the display of before. After pics, Facebook has implemented stringent security measures to ensure that the Marketplace is a safe and secure space for selling and buying of good online protecting its users against exploitation and being duped.
The platform also allows its users to report both the product and seller is they violate community guidelines and commerce standards.
Tips and tricks for safe buying and selling on Facebook Marketplace
Viewing users' profile
Get to know about the person you are selling to or buying from; you can click on the user's profile on the product listing and view mutual friends that you have in common with, their ratings/ review and marketplace activity.
Reporting of suspicious listings
It's always advisable to scrutinize the sellers' profiles. Check out their product listing descriptions; if somethings sound off, then you can immediately report them.
Always meet in a safe and secure location
When looking to carry out transactions, always meet in public places with crowds and a lot of people such as shopping malls, coffee shops, restaurants, to mention a few. You can always let your friends or family where you are headed or tag along with them.
In case you are buying or selling expensive and high-value items, its always advisable to meet in a police station.
Inspection of the items
To inspect whether the product sold is genuine or original, always inspect it beforehand. With regards to payment, either stick by cash basis or use popular payment methods such as PayPal or debit or credit method.
Protect your info and contact details
Always keep your details private and never share them with other users like bank account info, passwords, and payment logins. If the product being sold is electronic, always ensure you wipe out any personal details to minimize the chances of fraud.
Benefits of having a Facebook store/marketplace
Extending reach
Ease of use
Using the Facebook app marketplace adds convenience and simplicity, especially while you are on the move; the product is compatible with mobile apps allowing you to access the Marketplace with just a touch of a button.
Offer simple steps when posting
With Marketplace at Facebook, you'll never have to endure a tedious time when it comes to posting your products or items. With the new feature, you can simply upload and post your items in four simple steps.
All you need to do is input the product description, location, price, and the category/listing and wallah! You are done. Simple right! It's a piece of cake!
Wide reach
The Facebook marketplace is fast becoming the go-to place for selling and buying items; with increased traffic, both buyers and sellers will benefit from the added exposure connecting them with millions of people on the platform.
Excellent customer experience
The Marketplace Facebook provides personalized and customized services to consumers, helping your brand or business find the right customers. This is important in ensuring your product is visible to the right target audience, and every interaction will lead to potential sales.
Forging and solidifying relations with the local community
The Facebook app marketplace will only show products and items within your local vicinity; sellers can utilize this platform and create relationships with the local community driving up their sales within no time.
Facebook Marketplace Shop listings
As of now, companies located in the U.S, U.K, Australia, and New Zealand can apply to sell and list their products on the Marketplace Facebook. For auto-dealers in the specified location, they are also allowed to list their products and items on Facebook.
At the Marketplace, brand listing features on two main areas: The daily deals and the shop category. The content is exclusively available to users from the four countries; the deal program is unique as only hand-picked businesses will be able to offer the discounted rates and can use the deals program.
The Social networking site is completely free at no cost, but they do take out a certain percentage as commission. For the market listing, you'll require integration with the Facebook checkout, and for every transaction, Facebook charges a percentage fee of $.30 and 2.9%.
The deals program feature
The Facebook marketplace offer three-tier deals, lighthouse program, featured deal, and everyday deal. Additionally, there also higher tier deals that will provide you with more exposure. The targeting algorithm is used for shop listings and ads, pushing your content to be more visible to your targeted audience garnering more interests and likes.
Eligibility to sell on Marketplace
Currently, at the moment on a Facebook app marketplace, there are two major ways of selling on the platform. You can make an application to list on either on Facebook marketplace shop or a deals partner.
Note that the applications are open to the merchant from the four countries above and automotive firms. For brands in the United Kingdom, you can take advantage of the marketplace feature to boost your margin sales and solidify your brand reputation.
How to apply for listing at the Facebook app
For the application of selling on the marketplace platform, you'll be required to first complete Marketplace eCommerce Retailer Interest Form.Access at times can be somewhat limited, so working with one of the partners in Facebook listing such as Shopify, Zentail, IXXO, and BigCommerce will be very beneficial.
The retailers must meet minimum requirements such as:
Selling new products to consumers
Business must be based in the U.K, U.S, Australia, and New Zealand
Orders have to be fulfilled within three days and received in 7 days.
Accepting returns of up to 30 days
The product listings must have thumbnail images with a solid and clear background, product image, description, and mane of the item/product. There should be no texts, graphic overlays, and the badges should be placed on the images.
Companies that are in vital critical sectors have been given top priority to sell on the Facebook marketplace. They include home décor, baby and kids, luggage and bags, accessories and apparel, and beauty products.
Integrating with the Facebook checkout
You can operate your store without a Facebook checkout feature. But, for ease of operation, retailers/sellers should be able to add a checkout feature that allows your clients to buy directly while they on Facebook without necessarily leaving the app.
The checkout feature also provides payment solutions for fast and easy transaction. Additionally, the client's forms are always pre-populated, making the checking-out process even more seamless.
The marketplace Q & A
Are there charges in the Facebook marketplace?
Well, Marketplace at Facebook does not charge any listing fees, unlike other social marketing platforms.
How can I download the Facebook marketplace?
The good news is both buyers and sellers don't need to download Marketplace as its already in-built on their Facebook app or its webs version Facebook.com.
How can I improve my market sales?
There is a wide range of ways in which you can use the Marketplace to boost sellers and attract more buyers. Here are a few simple tips:
Writing a detailed description of the product, you are selling
Optimizing your product listing by adding more keywords to the description and title.
Final word
Now that we've discussed and dissected everything on how to fully utilize the Facebook marketplace, its now time to put all we have learned into good use. At this platform, there is always something for everybody. So, select the best option and begin making money online. Cheers!