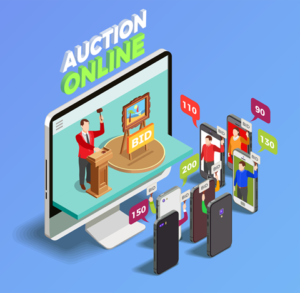 The Multi-Vendor auctions plugin allows you and your vendors to set up a fully functioning online auction on your marketplace similar to eBay.
How our Auction feature can help your business
Online auctions are an alternative sales method that can enhance your business allowing you to reduce the levels of your surplus inventory, along with associated inventory carrying costs. Have you ever encountered problems disposing of seasonal, discontinued, or damaged goods? Some retailers have had to either keep such items in inventory indefinitely, or end up marking down the prices until the items are sold at a loss. IXXO's auction plugin provides the ultimate sales tool enabling you to sell surplus inventory, often at a profit, and eliminate the expense of storing older merchandise. There are other benefits that having our auction feature can bring to your e-commerce business, by helping to expand your global reach opening international markets that would have been impossible to reach via normal marketing channels. Auctions can help sell your products or even discover the popularity of new products helping you to establish market prices based on supply and demand. By using online auctions to gauge interest in your products you can find out what customers are willing to pay for an item. Collecting such information quickly and informally, rather than investing in time-consuming and expensive market research.
Other benefits of using the IXXO auction plugin  
Simple to use  that you can put any product up for online auction
You set the rules for the auction without the risk of overpricing or underselling
Create a user friendly environment for buyers to compete for great deals. Empowering your customers and actively involving them in the shopping process will help to increase your revenue and customer loyalty
A truly international auction as you can accept payments from over 90 different payment gateways including Pay Pal adaptive and Stripe. As well as real-time shipping quotes from over 60 providers including UPS, USPS, FedEx, Canada Post, Australia Post and others
A powerful yet highly flexible auction management system that will allow you to add a product, product images, set the item condition, starting bid, minimum bid increment, auction end date and time, define your shipping and return policies, and publish the auction
Mail notifications feature allows bidders to keep track of the items that they are bidding for with notification emails to administrators and bidders to keep them updated with their auction status. This function automatically notifies bidders when they win or don't win an auction, it will also notifies them if they have been out bid. All email notifications are full customisable as per your requirements
Easy to style and configure with full admin control enabling and disabling features such as the, price type including or excluding  taxes
Other features include, but are not limited to:
Buy It Now feature will allow you to move items fast to the cart
You can manually set the auction end date, or select an auction duration period to have the end date set for you automatically
Show the auction item condition
Define a reserve price for the item
Customisable countdown timer label
Allow Watch lists to help shoppers view products they might want to purchase
Set automatic "You've been outbid" notifications
Set automatic "Payment Reminder" notifications
Set automatic "Auction Ended" notifications
Set automatic "Auction Ending Soon" notifications
Set automatic "Auction Relisted" notifications
The plugins flexibility allows you to run regular auctions.
Plus, it's backed by our excellent free support