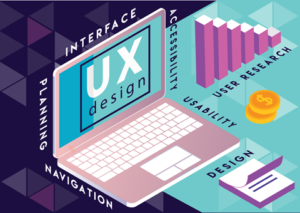 What is UX (User Experience Design)?
UX (User Experience Design) is the application of design and style methods that will enhance users satisfaction with a product by improving usability and accessibility provided in the interaction with that service or product. UX is not the design of your websites or app, it's the ease at which your users can access and interact with elements of a website or an app.
Good UX makes it much simpler for your eCommerce store visitors to click, download, sign up, make a purchase, or whatever else you'd like them to do and it's a significant part of promoting your own brand, online store or even your multi-vendor marketplace.
Testing is everything
A lot of UX (User Experience Design) testing techniques are simple, quick, and relatively cheap. Things like heat-mapping, predictive eye-tracking, and Google Analytics can show you how thousands of people are interacting with your website, what they're clicking, what they could be looking at, and where they're falling out on the user journey.
The more effective the user experience, the more income the website will likely earn
The main three things that enables you to measure efficient UX are bounce rates, pageviews for each visit, and session length (or time on site). After that, it is possible to break all these out into sub-sections by Geo-location, website landing page, and device. This will likely provide a lot more depth into how various types of users interact with your online store or multi-seller marketplace.
These are the same metrics that Google uses inside their search algorithm to measure site/content quality and give you the best objective understanding of what your users think of your site's or multi-vendor store UX (user experience design).
What UX elements matter most?
Navigation
TAs and clicks
Clear Messaging
Ad Density
Mobile optimization
Background color
Page Speed
Most companies have separate departments for content, UX and marketing. However, combining the know-how of designers with content specialists will result in optimal results through a seamless user flow merged with a clear structure that's easily accessible and will anticipate the users' needs. This structure is called Information Architecture.
According to Wikipedia, Information Architecture is actually "the art and science of organizing and labelling data including: websites, intranets, online communities, online stores, online multi-vendor marketplaces, software, books and other mediums of information, to support usability". The goal would be to help users find their way in the complex information and to take decisions.
As an integral part of user experience design, information architecture feeds content strategy by identifying what information is needed by the user in that context.
Interaction Design in the wireframing process
In other words, UX and content are nothing without each other and the synergistic effect is much greater than simply resolving a conflict. Extra words can distort a design, but a design can also distort the essentiality of those extra words. Having said that, they both fall under the same umbrella and it's essential that they work together.
Main steps to follow:
Gather data about the users
Create customer personas and write user stories
Build metadata, scenarios, pages
Develop user flows
Form sitemaps, wireframes – and gather feedback
Short for Search Engine Optimization, SEO is defined as a methodology of strategies, techniques and tactics of website development used to increase the number of visitors to a website by getting a high-ranking position in the search engine results page of a search engine, like Google, Yahoo or Bing.
SEO is also about making your search query so that more people click the result when it is shown in search. In this process, snippets of text and meta data are optimized to ensure your snippet of information is appealing to the context of the search query to obtain a high click-through rate from search results.
The most important approaches that are taken to achieve a good SEO strategy include making sure the website architecture makes it easy for visitors to find content as well as being mobile-friendly and fast to load – aka useful content and a good user experience. User experience impacts how search engines judge content just as it affects the way users judge that very same content.
How UX affects SEO
Google and other search engines work with complex algorithms that have been tweaked to remove low quality content from the search results.
Choosing a term and using it over and over in your website, a post or article, was never really a good long-range strategy as it is strongly penalized and will immediately harm your search engine rankings.
Moreover, search engines are advancing at the fastest rate thanks to machine learning. These advances have allowed them to focus on providing the most relevant results, not only in terms of content, but also in terms of user experience (UX).
Click-through rate and user engagement have become the best indicators that a specific page has lived up to a user's expectations. Google judges your UX and ranks pages accordingly, so it's essential to make sure that all websites have every UI/UX spot covered.
What is good for the consumer is good for organic search performance – especially if we consider how machine learning is becoming ever more central to those search algorithms and integrating areas such as search sequence, as well as article quality, structure and sentiment. In other words, your website needs a good content strategy as much as a good UX design, so your SEO strategy is optimal.
If Google doesn't like you, you're lost
Artificial Intelligence (or AI) is an advanced human-like computerized system that can intelligently manage the activities and systems which humans usually do manually.
Artificial intelligence addresses anything that has to do with infusing intelligence into machines/devices in order that they replicate the unique reasoning power of humans. All of these can be accomplished by using algorithms that can discover human behavior patterns and generating insights from the data received and stored by the devices. AI enabled devices or machines are carefully programmed so that they give support in future decision-making.
With the appearance of smartphones and mobile devices, comes the explosion of data. As the amount of data increases, it is permanent to have an AI (Artificial Intelligence) system to analyze, process, organize and interpret the data. Artificial intelligence can dig deep into details which a human eye could probably miss and will help you focus on the right data.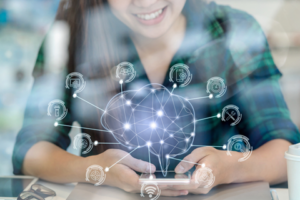 How Artificial Intelligence in UX is relevant to content
It is a powerful technology that positively influences consumer behavior and enables businesses to provide a great user experience.
Once the designer can map a user's journey, he/she can understand the paths a user is expected to navigate in course of their digital interactions. AI-powered journey mapping allows you to generate easy, engaging and profitable UI (User Interfaces).
As mentioned, AI systems could analyze large amount of data quickly and learn to adjust their behavior in real-time. Like this it can infer from the context and you would need to supply the additional information in the form of business rules, questions, metadata and other similar conditions.
For example, TheGrid.io is an algorithm-driven design system that lets you build very impressive and optimized websites. It is built from the ground up around the idea of constant A/B testing along with refinement layouts. Designers can shift through the multiple options provided by such AI-driven tools and select what works for them.
Also, companies like ReFUEL4 use the power of predictive analytics to understand the online journey of users and map them into segments based on their behavior. The best UX is the one that understands and in many cases forecasts user interests and actions. When you deal with every design phase to build a great user experience, you can constantly improve the questions that you ask your AI system. This will likely change the way it analyses information. Every time you feed a new info or a criterion, the machine conditions itself utilize AI technology to enhance your user experience. User experience is not always about utilizing data insights, it is more about intelligence too. Artificial intelligence combines the dots by infusing intelligence to different sources of data.
AI systems such as machine learning enables digital entrepreneurs for granular targeting.
For instance, IBM helps psychological user segmentation so that online marketers can provide the correct content or products to the right audience at the right time.
Machine learning refers to different kinds of algorithms that learn from information like human interaction or data and create innovating feedback after some time from that input. It may use preexisting data to generate forecasts or even new types of connections or patterns inside data sets.
As businesses, we are constantly considering using new strategies to drive more revenue and enhance experiences. This is when machine learning gets extremely powerful and the more it's utilized, the more powerful it gets.
Machine Learning (ML) takes your information and combine it with your customers' habits. It then segments them into the most relevant groups to make the most customized experience based on learning. A good example of this is an online shop or a multi-vendor marketplace. With ML as the basis for suggestions, a user's behavior and demographic info will be used to create a list of recommendations best suited for them all.
Taking this a step further, ML would allow someone to create entire experiences of your online shop or multi-vendor marketplace to be unique to each user. You can have one shop that turns into a thousand different stores, customized to 1000 different customers.
User experience is about developing a design for personas. Allowing machine learning to assist with this, ends in having amazing UX on a website that is tailored to the individual personality.
However, machine learning simply helps if used in the correct framework and when it's allowed to spread its proverbial wings. Machine Learning is there to serve the role of seeing, wondering as well as acting.
It reduces stress and provides experiences for us
Machine learning-powered tools can discover the very best content on the web, including thought leadership pieces, brand-relevant user-generated articles and other content types.
The technology may then determine how content is being engaged within real-time and how it's being pushed out across channels. These types of tools can also help to make suggestions to brands about which content they should utilize, and how-to best target.
Advantages of AI in content strategy
Better content
AI can analyze all the requests made on your search engine, collect more user measurements, determine tendencies and generate richer findings. Along with web content writing, AI-powered marketing tools like Rocco can suggest fresh social media content that your brand's followers will probably interact with.
Better SEO
Refine the quality of search engine results with data- AI can come up with more effective predictive search terms, provide suggestions, cross-topic referrals (just like what Amazon offers), and convey more related content on top.
Better User Interface (UX)
AI learns from everyone who has been to your website or app and provides your users with wanted content. This can make way for a better user experience. Also, information architecture with Artificial Intelligence -AI analyses both your external and internal information, and helps you build information structure for your content management system and navigation design for your website visitors.
More effective marketing and advertising
Artificial intelligence-powered systems will help advertisers test out more advertisement platforms and optimize targeting. As an example, that is what Facebook is doing with their ad delivery optimization. In addition, it analyses, manages and optimizes paid advertisement campaigns, and it finds the best paid channels to deliver ads to your chosen target audience.
To summarize, things are changing at the speed of light and it's important to keep up with it all as we must constantly adapt our strategies and article marketing to not remain behind.